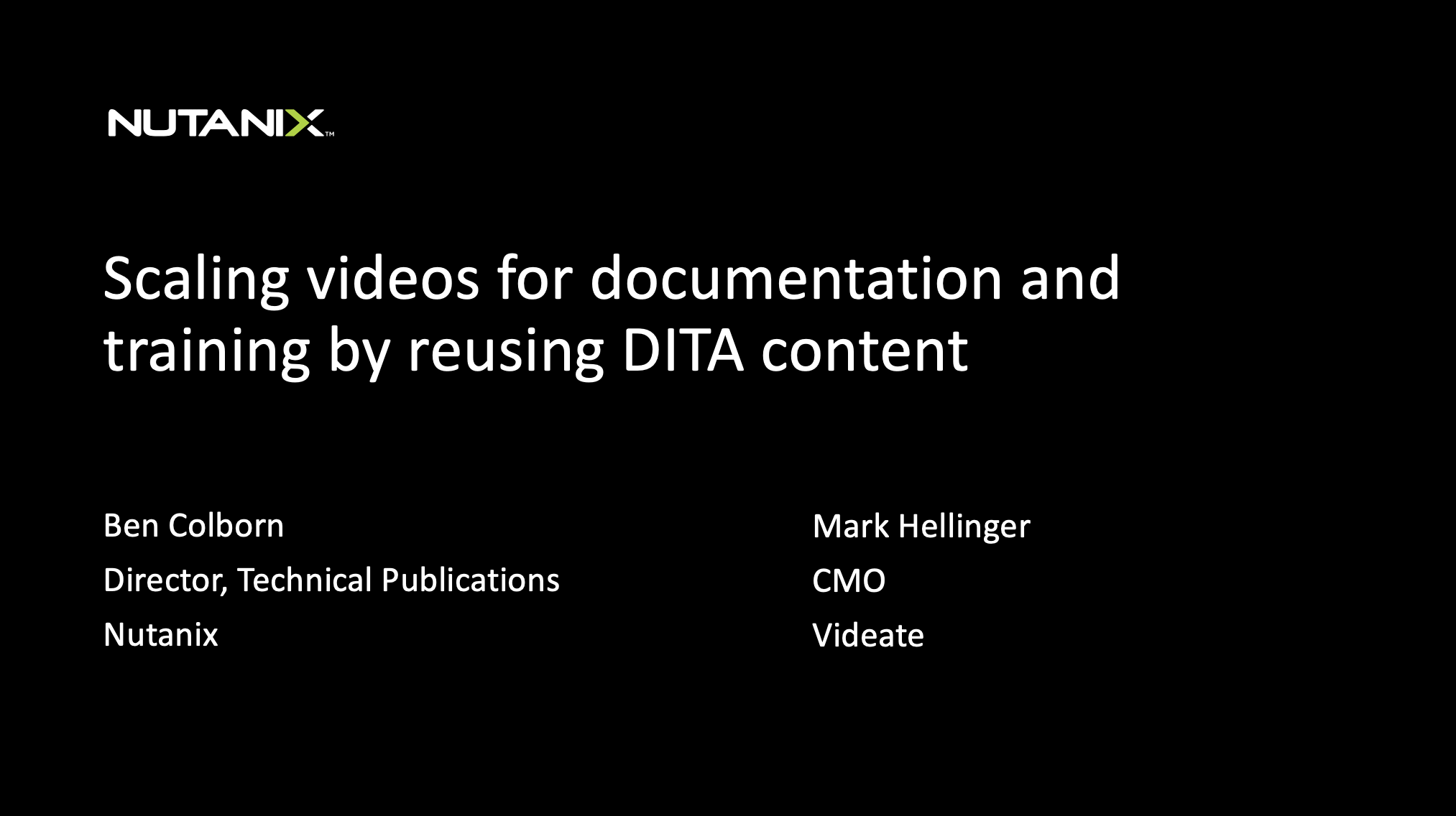 We recently met at the ConVEx conference with Ben Colborn, Director, Technical Publications at Nutanix, in a Candid Conversation session about scaling videos for documentation and training. He started with a discussion about single-sourcing and multi-channel publishing. While very successful for product documentation, for the most part, this has meant, "as long as it is text." But now, recording videos, capturing screenshots, and even creating slides that can be also used in Customer Education are possible. Below is a quick summary and here is a link to the recording.
Session abstract
One of the promises of structured authoring is multi-channel publishing.
In practice, this has meant mainly PDF and HTML, with occasional appearances from other text formats.
Recent advances in technology have made it possible to leverage written documentation into videos.
Automated videos are poised to deliver on the multi-channel publishing promise for new audiences and new experiences.
Some of the challenges faced in using existing documentation
Data strategy
New requirements for screen input (such as entity names)
Paths/branching/optionality in written procedures
Product environments
Availability
Suitability
Service connectivity
Mediation effects
Differing user expectations
As found with varying stylesheets
Some of the opportunities for automated videos
Lower production costs
Timely updates
Improved accuracy
Increased product coverage
Localization
New automation tools are being introduced in every area of business as part of rapidly accelerating digital transformations. With Customer Success the key driver behind every SaaS company, keeping product documentation and customer education materials up to date with every software release has never been more important. Click here to watch the full recording.