Sample Videos: Behind the Scenes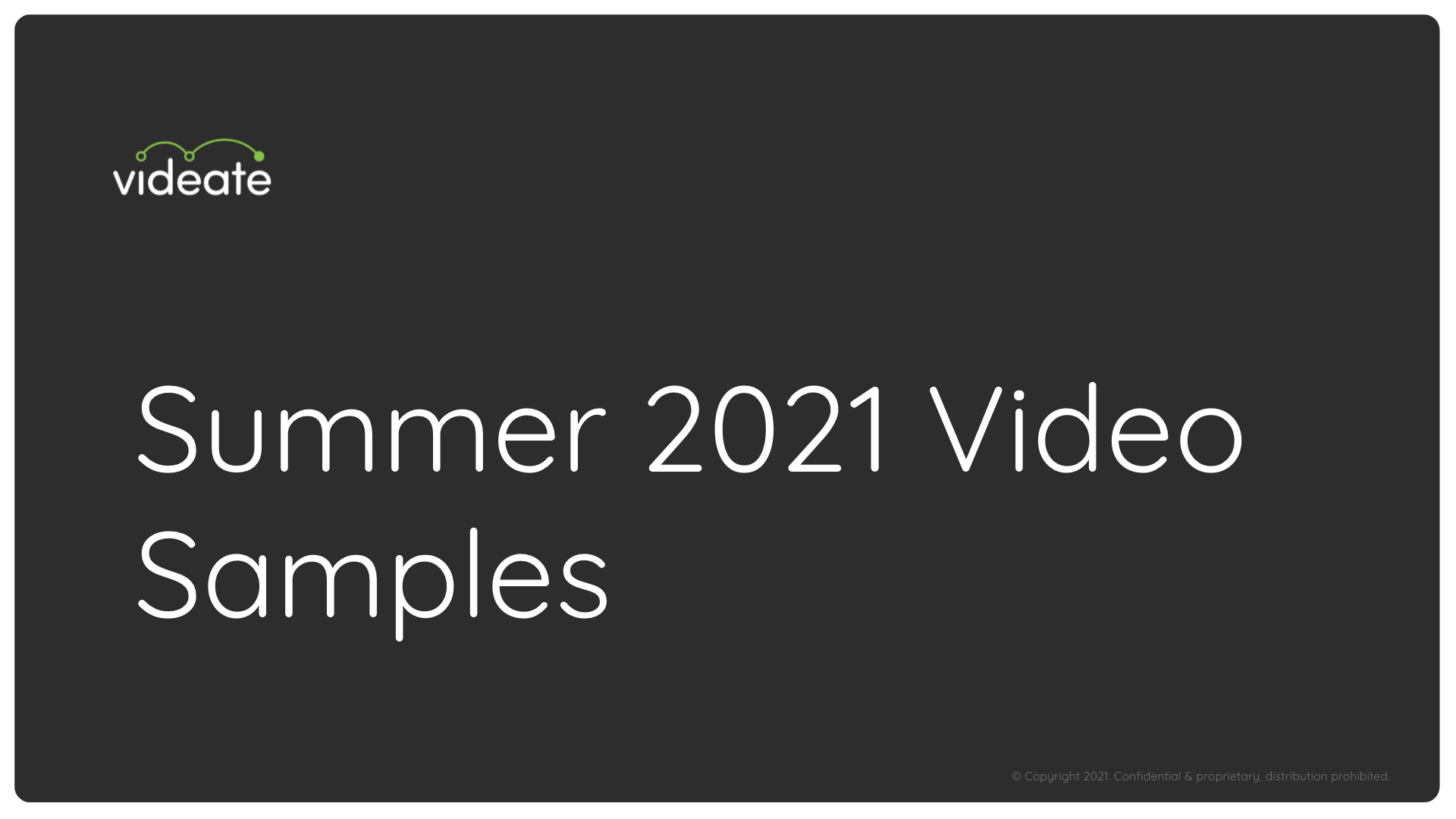 Many thanks to our great customers for giving us permission to share some samples of their videos generated by Videate. Here is a link to the sampler, which includes snippets of a few videos that will demonstrate just how far we've come with our automation in the past year. In this article, we will take a look "behind the scenes" and explain a few of the subtle techniques that will save you time and money.
Here are a few things you may want to know about how we did this.
Bumpers and Slides
The front and back bumpers were created externally and inserted into the script.
The slides were automatically created by Videate from the text and branded to customer guidelines.
On some slides, we speak some (not all) of the text, i.e. you can instruct Videate which words to speak.
You can also insert PowerPoint slides created externally into your Videate videos.
Multiple Videos from One Document
We take single documents and split them into multiple videos.
You simply add annotations to your documents to mark where to stop and stop videos.
In the sample videos, Videate took a task with many steps and automatically broke it into microlearning videos.
Use cases
Sales Enablement: One of the demos was created specifically to show the sales team how to demo the product. It doesn't require being an expert videographer, a Subject Matter Expert wrote the script and Videate generated the video.
Product Support: One of the demos was created to generate video from existing tech docs. The tech writers added missing data and flow tags (start, stop, skip) into the existing technical documentation and the videos became available in the knowledge base/support portal. In another case, the videos are embedded directly into the application.
Education videos: One of the demos was created as part of a major digital transformation process to move from instructor-led to on-demand training. Lab guides were used as the source and they are now making how-to or guide-me videos through automation. In another case, learning objectives and summaries were added to the existing product documentation to create videos.
Special Effects Automation
We can configure Videate to automatically add special effects. In one video, you will see there is a red box around each action field. Configured once and automated in every new or updated video.
In another video, you will notice we blur data to obfuscate information that should not be shared such as license keys or passwords.
And our automation ensures that we turn the special effect off after each speech block or action.
The source of the content for these videos is a combination of both Word (Google docs) and XML (DITA and another schema). The beauty of the Videate approach is that we support multiple existing content types, including help articles, eLearning storyboards, and technical documents. Even if you are starting from scratch, you can simply use our Chrome Extension to point and click to add your own tags. If you can write, you can produce your own videos.
If the sample videos look and sound similar to the ones you have manually recorded, that's great! It means we've passed the video Turing test!